Dear Education Centre Director,
Please see below regarding the T-REX Digital Badge Wellbeing course Using Evidence for School Wellbeing. This online course is aimed at primary and post-primary teachers with an interest in this space. Registration is open via the link below, with the course expected to commence on 22 November.
We would appreciate it if you could share with your network of contacts, as appropriate.
Le dea-mhéin,
Barry
Barry Kenny
Teachers' Learning and Research Associate
The Teaching Council | Block A, Maynooth Business Campus | Maynooth | Co Kildare
An Chomhairle Mhúinteoireachta| Bloc A, Campas Gnó Mhaigh Nuad | Maigh Nuad | Co. Chill Dara | W23 Y7X0
________________________
Marie Ryan | T-REX Co-founder & Project Manager | Educational Psychologist | Lecturer in Educational & Developmental Psychology and Early Childhood Education, Department of Reflective Pedagogy and Early Childhood Studies | Mary Immaculate College, South Circular Road, Limerick, Ireland, V94 VN26 | + 353 61 204372| www.mic.ul.ie  | Twitter: @Marie_C_Ryan | www.t-rex.ie | Twitter: @EducationT-REX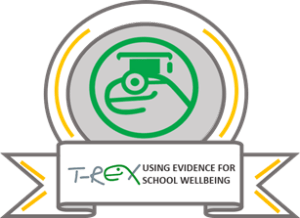 Using Evidence for School Wellbeing
 In partnership with the National Forum for the Enhancement of Teaching and Learning, we are delighted to announce that T-REX will facilitate a Digital Badge course on Using Evidence for School Wellbeing in a fully online format starting on November 22nd. This course was developed by T-REX in collaboration with the Teaching Council, the NCCA and teachers. Places will be given on a first come first served basis so act fast to secure your place.
The course will run for 10 weeks from November 15th to February 5th with a break during the Christmas period. The course will provide participants with a strong introduction to using evidence from research to inform and support school practice in the area of wellbeing. It will support participants in developing an evidence-informed action plan for wellbeing in their school/classroom. The course involves approximately 25 hours over the 10 week period, averaging 2.5 hours per week.
This free iteration of the course is particularly aimed at teachers (primary & post-primary) or groups of teachers who are interested in leading the way in terms of school wellbeing.
Please note that this is a pilot implementation of the T-REX Using Evidence for School Wellbeing Digital Badge. We are inviting participants to engage as co-collaborators on the development of this course and will incorporate participant feedback in future iterations of the course.
CLICK HERE TO REGISTER YOUR INTEREST AND TO RECEIVCE AN EMAIL WITH A DETAILED COURSE OUTLINE INCLUDING COURSE REQUIREMENTS>>
If you have any queries, please email Ciarán Carr: 21344671@studentmail.ul.ie
Séanadh Ríomhphoist / Email Disclaimer https://www.mic.ul.ie/about-mic/college-services/ict-services?index=5
Séanadh Ríomhphoist / Email Disclaimer https://www.mic.ul.ie/about-mic/college-services/ict-services?index=5